How to Buy a Domain Name:
The first question that comes to peoples mind while starting their online business is," how to buy a domain name". I'll be clearing that up for you, as well as give you some friendly tips and tricks about how to buy a domain while beginning your journey online. Also, I will explain how to register a domain name on Namecheap. Let's get started!
What is a Domain?
We first need to understand what is a domain. A domain name is what people see in the address bar when they visit your website. It is essentially your brand on the internet. When starting out it is important to select a name that people are likely to remember and is easy enough to type in the address bar. It should be short, catchy and related to the content of your website.
There are three types of domain names:
1) Keyword  Rich Domain:
A keyword rich domain is one that has high-ranking keywords in it, which can get loads of traffic. But this is one which generally has short-term success and is limited to a particular topic. For examples: if your business is about internet business and your domain internetandbusiness.com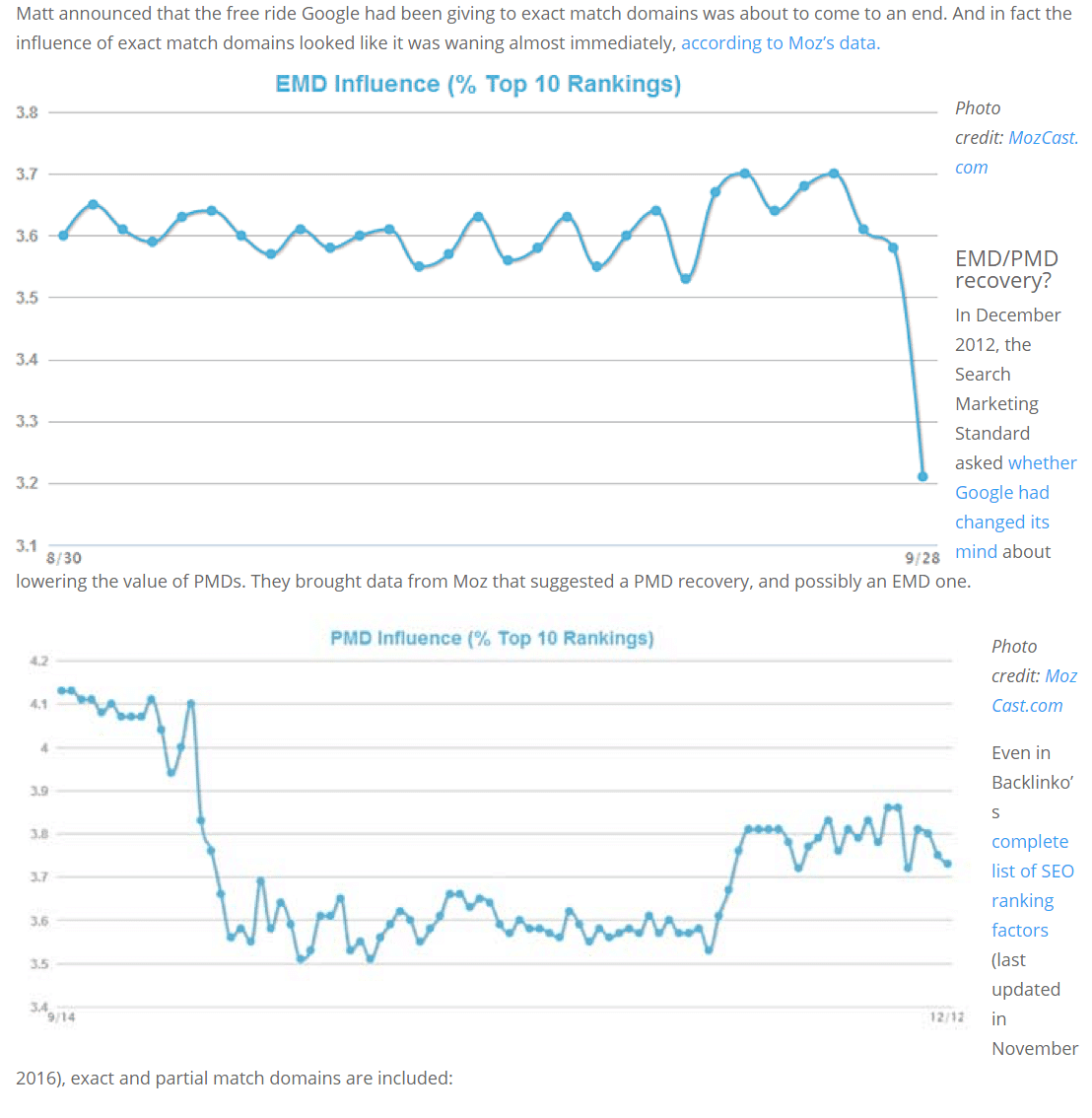 2) Brand Name Domain:
A brandable name is one where you can establish your own new brand, and earn visitors and generate good revenue from your website. This generally has a long-term success but doesn't get lots of initial traffic. Examples: apple.com and amazon.com (These don't sell fruits or rivers, yet they are hugely successful). Search engines especially Google like this kind of domain.
The best domain to select would be having both of the above in one. That is having a brandable domain which is rich in keywords. If however if that is not available to you, select a name that you can easily share with friends and family, offline or online. In some cases, it is also helpful to have an exact match domain, which we'll learn about in detail below:
3) Exact Match Domain (EMD):
What is EMD's?
EMD stands for Exact Match Domain. This is when your domain name, exactly matches the name of your business online. Say for example I have found an online business named, "Unlimited Internet Success" and the domain name is unlimitedinternetsuccess.com, that would be having an exact match domain.
What are the benefits of EMD?
Previously EMD's had a lot of ranking power when it came to websites. However, times have changed and their importance has decreased. This, however, does not mean that they are not useful anymore. Having an EMD, with a low competition keyword can really help with the rankings. Just not as much as it used to.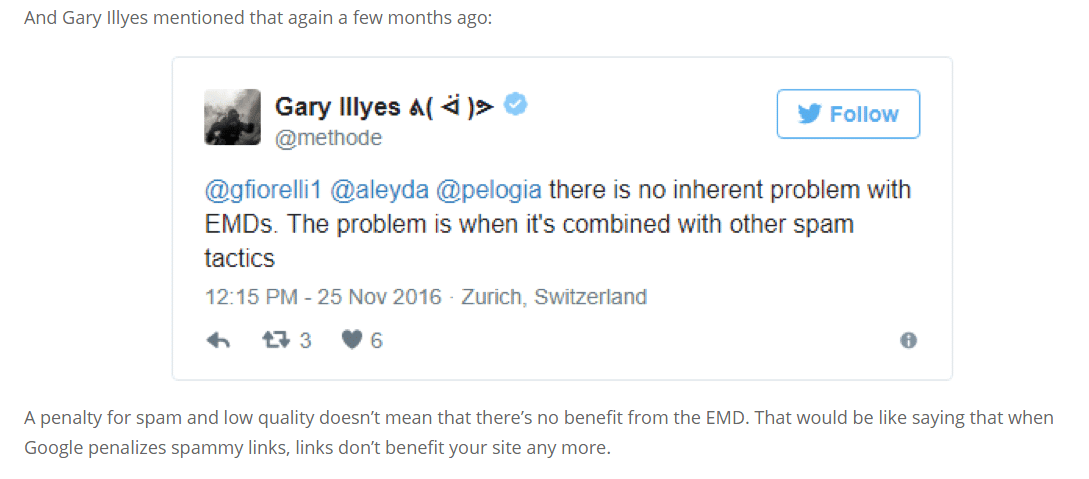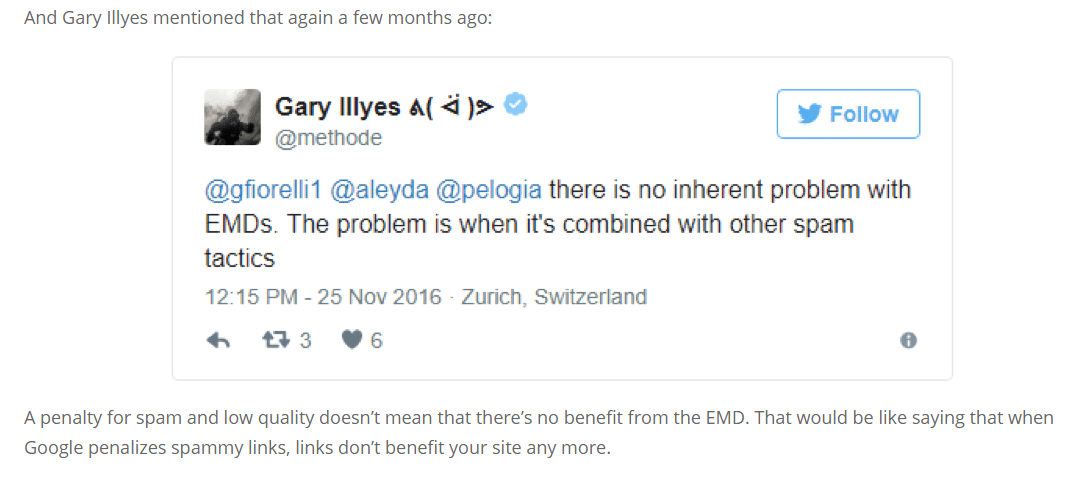 We have covered our domain names and its types. We'll now be looking at domain extensions.
 New Generic Top Level Domains Program:
The Internet Corporation for Assigned Names and Numbers (ICANN) has released the results for the first set of new generic Top Level Domains through their Initial Evaluation on their new domains Program. This marks a major milestone on the web, as it corresponds to a change from the current 1200+ generic top-level domains (gTLD) and more than 255 country code top-level domains (ccTLD) are available. This means you can now register a domain in a variety of options to further your financial website reach.
Currently, 339.8 million domain names are registered, and an average of 10 million domain names are added to the registry every year. Despite this, about 1 out of 3 of the total number of domain name registrations are not used, and they remain as a rarely used choice. With the new top-level domains Program, ICANN wants to increase the percentage of new domains registered per year. This means there is a high probability the number of domain names can double or triple over the coming years as more financial website owners expand their services and offerings.
1) Generic Top-Level Domain (gTLDs):
.com, .net, .info, .ogr, .gov, .edu etc
2) Country Code Top-Level Domain (ccTLD):
The first enlisted ccTLDs were .us, .uk, and .il, all enrolled in 1985. In 1986, .au, .de, .fi, .fr, .jp, .kr, .nl, and .se were enlisted.
3) NEW Top Level Domain ( nTLDs ):
.agency, .army, .bio, .cafe, .design etc.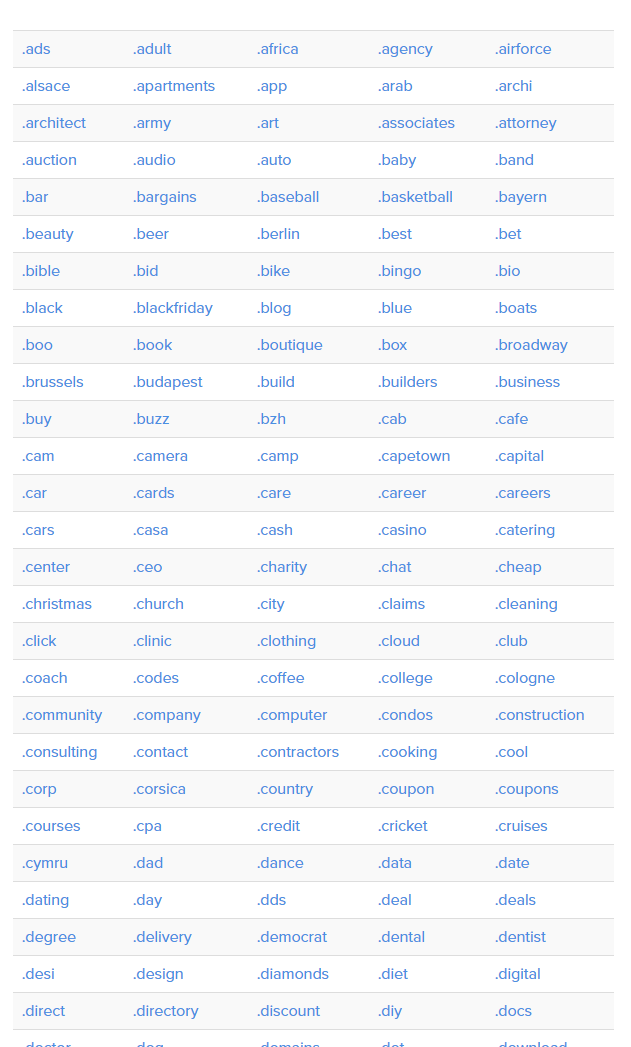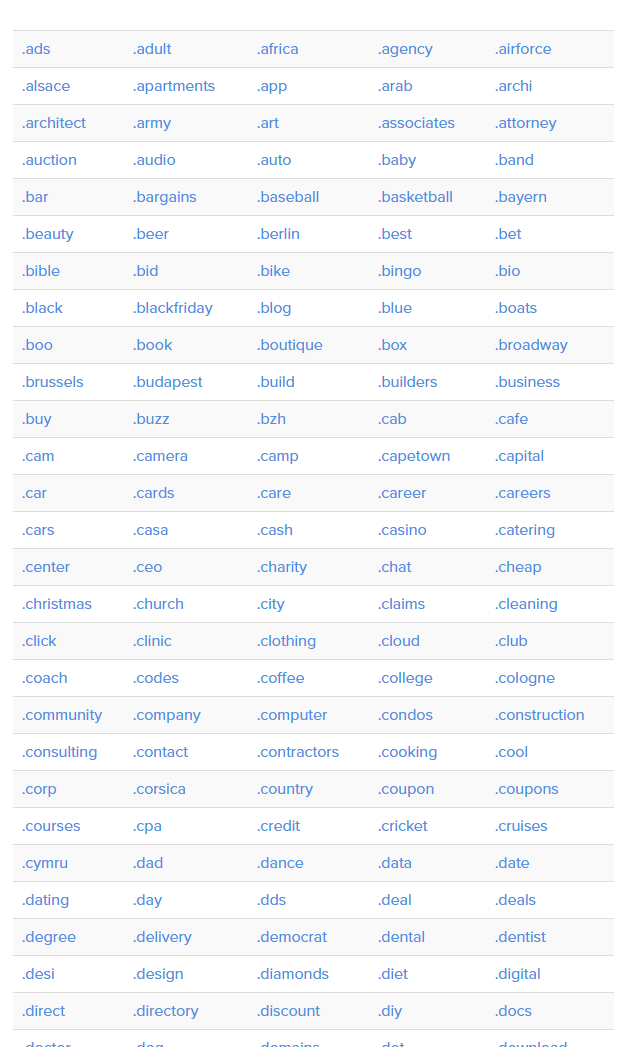 TLD's or Top Level Domains:
These are the highest rated domain extensions, namely: TLD. I'll now be discussing why these are important and what you choose. When the internet has first launched these extensions were used to categorize the large volume of websites at the time. They originally stood for: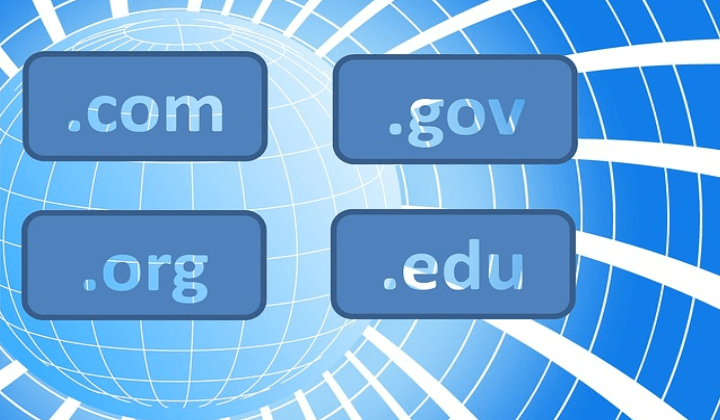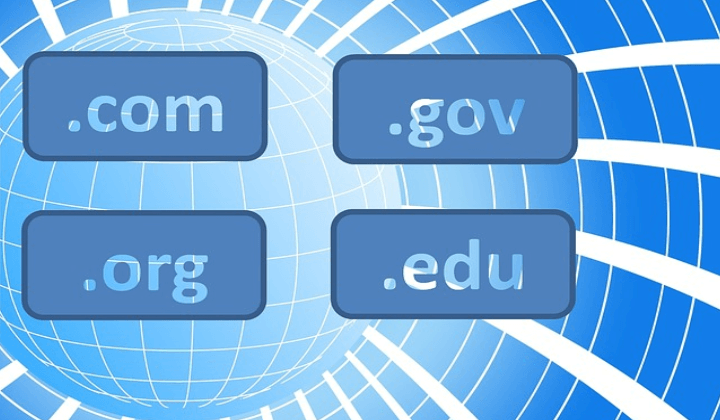 .com – This domain use for commercial business purpose and it is the most common TLD
.net – network organizations
.org – nonprofit organizations
.edu – an educational organization
.gov – government institute
Since then much more domain extensions have popped up and apart from perception the above extensions don't relate to their topics anymore. Basically what this means is that anyone can have a  dot com website, whether it for commercial purpose or not. But whilst selecting your website, your first domain preference should be .com. The reason for this is .com is the most prevalent extension on the internet. And people generally assume the extension of a website to be.com.
If your desired domain name is not available for .com, try some slight variations. For example, if onlinebusinesses.com is unavailable, try going for abusinessonline.com or any other variation. Only if all possible variations are taken, then look into the .net and .org extensions.
Rankings Factors for Domain Extensions?
Ranking-wise there is no difference between the TLD's. It all depends on the quality, quantity, and consistency of your website. For example, if I registered two domains – authors.com and authors.net. But only published high-quality articles on authors.net and perfectly doing SEO optimization on authors.net, it would get a better ranking than the .com extension.
Therefore, we can say, the extension does not matter for search engines ranking. If you want to improve search engines ranking, you have to apply SEO properly.
If you did not know about SEO, you can hire an SEO service company or SEO expert.  I will recommend for Rank Trends which is one of the best SEO service provider company in Bangladesh. They provide high-quality service with the cheapest SEO packages.
Excellent work so far! You've learned all about the domain types, their extensions and how they affect rankings in Google. Now comes the fun part – purchasing and registering your domain.
How to Register a domain name that will work for you?
How to register a domain name, this is a common question I get from a new online business owner. A domain name should be relevant and easy to remember. The perfect name would convey what your site is all about, would be no longer than three words and would contain no hyphens. A sneaky trick Imagine the situation where someone asks you the name of your website. You have no business card on you and there is no way of writing it down. You would tell the enquirer to just look up your name .com. It is a good idea anyway to have your name registered at a .com.
How to Selecting the Best Domain Name?
After you have selected your perfect niche for your website, the next step is to decide on the best domain name. Sometimes the decision on a domain name is the hardest part of getting your website started. It's a big decision as it will be your "brand" and will define your presence all over the Web. Research keywords thoroughly and select the best possible combination for your domain name.
If you did not find your suitable domain name or you are unable to research. I will recommend you go to namemesh.com website and write a word which is suitable for your business. After that, you will get lots of domain name idea which is available for registration.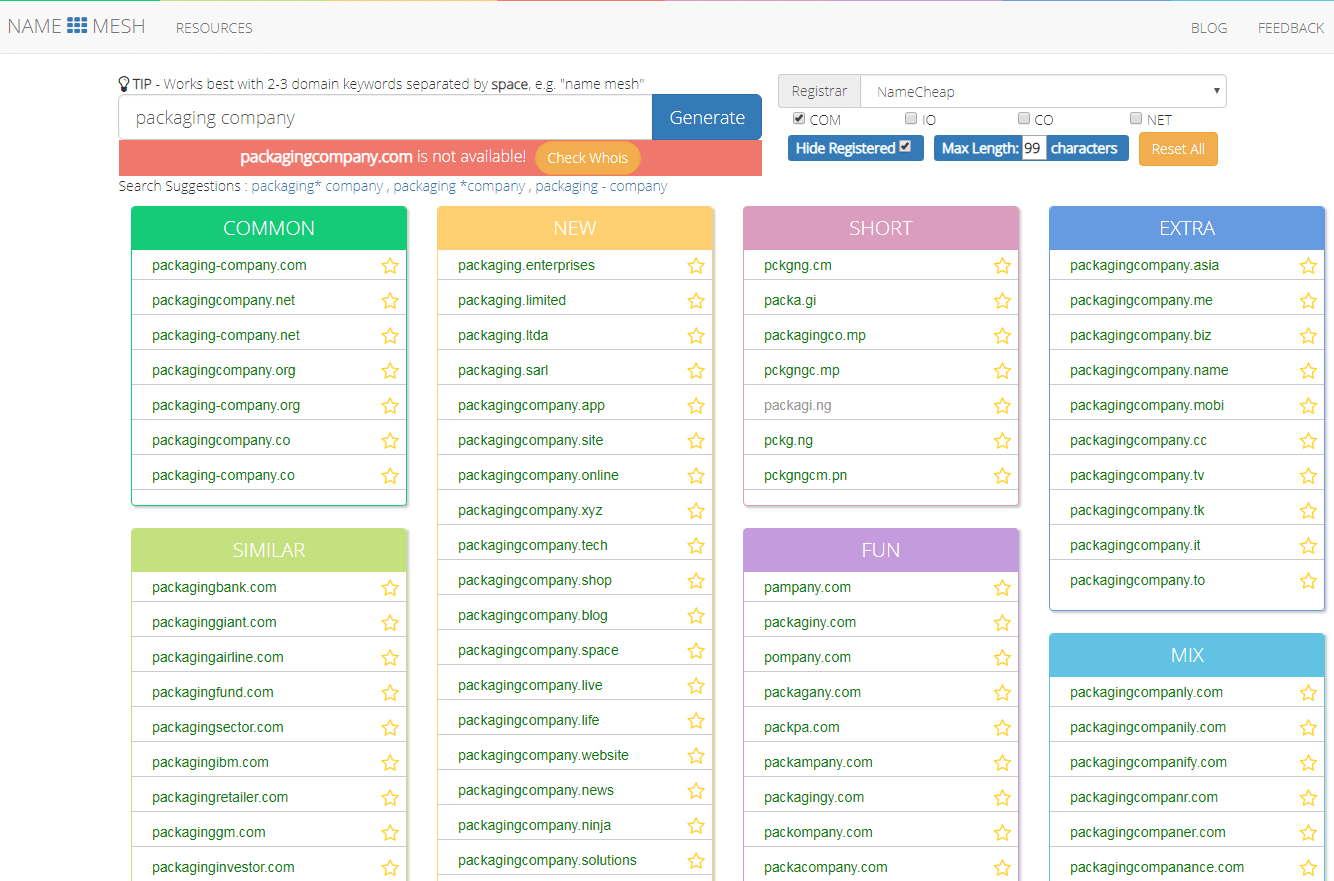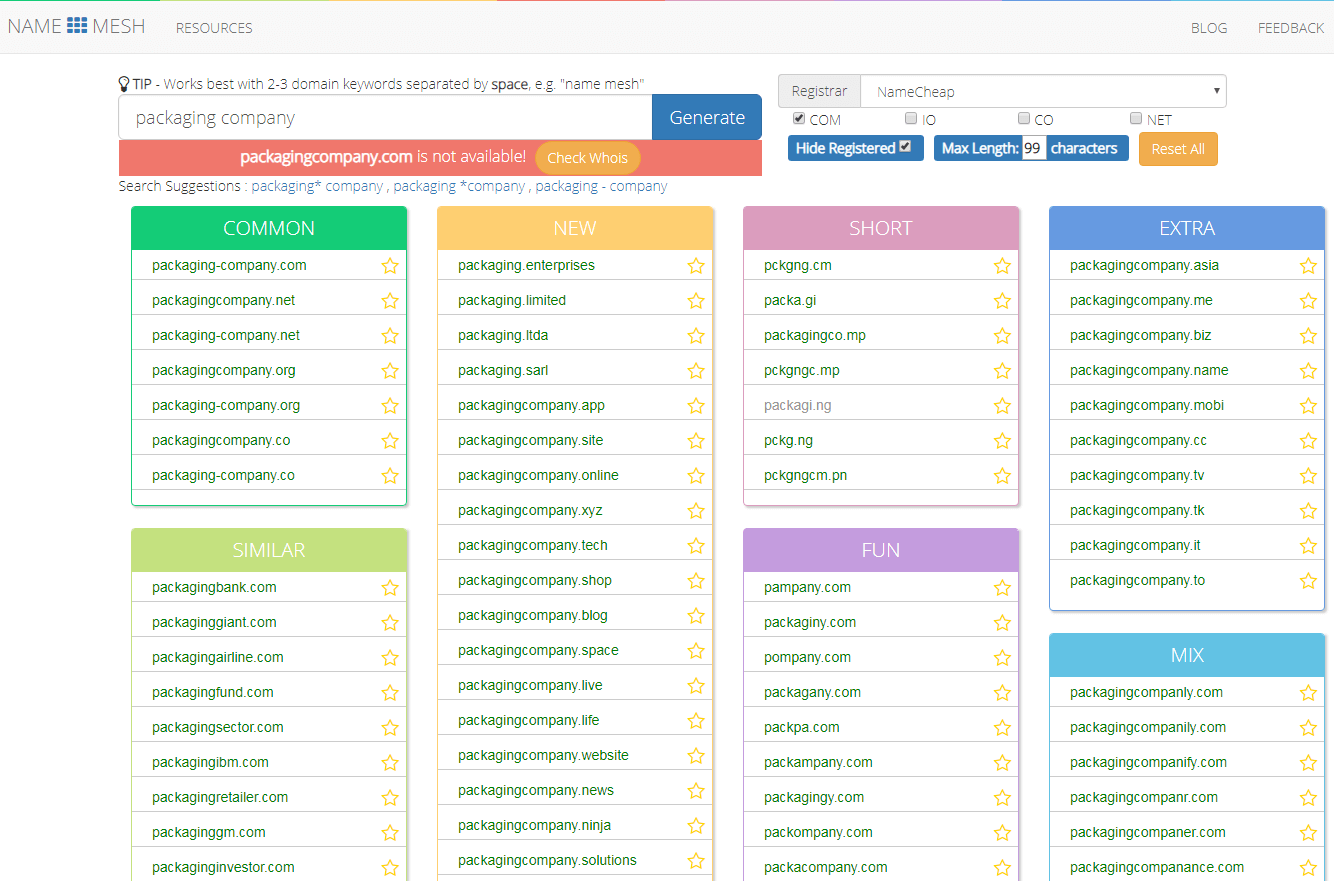 After choosing the best domain name, you have to buy this domain name. My top three recommendations from which you should purchase your domain names are:
Namecheap
Godaddy
iPage
I'll now be going through their advantages and disadvantages:
Namecheap:
We'll start with NameCheap. This is my top recommendation when it comes to purchasing domain names. This is because the prices are standard with no up-sells, and each domain comes with a free 1-year Whois Guard subscription. Also, the domains are registered fairly quickly and the customer support is great.
Register Your Domains Hassle-Free with Namecheap starting at $3.98/year
If you are interested to purchase a domain name from Namecheap, you have to follow the following step:
Step -1: First, you have to sign up for creating an account.
Step -2: After the complete sign-up process, you have to log in your Namecheap account.
Step -3: Nest go to the Domains menu and click the Domain Name Search under the domain menu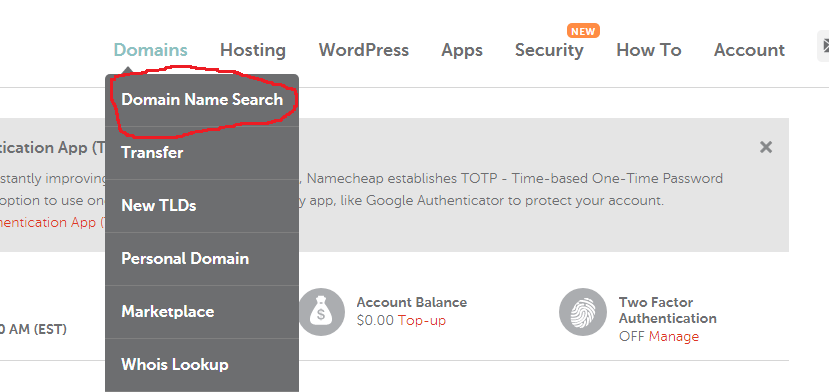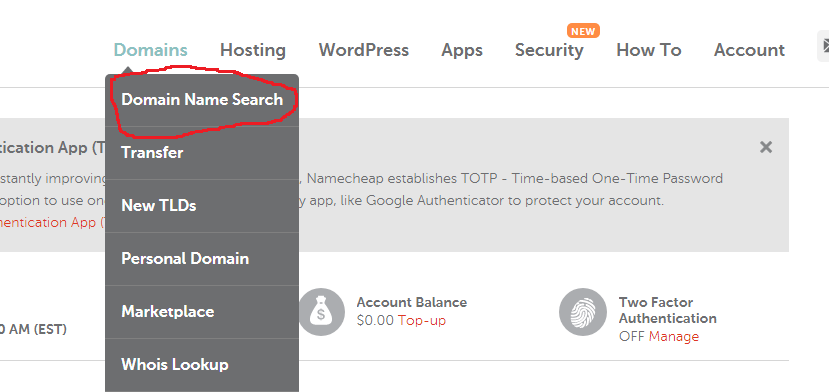 Step -4: Put your selected domain name on the domain search box and click the search button


Step-5:  Click add to cart button, 


Step -6: Then you will see like the below image. If you would like to purchase Hosting and SSL you can add this otherwise no need. Then go to View Cart


Step-7:  You can use a coupon code if you have, otherwise  click the confirm order
Step -8: Write your billing address and check in all agreement and then go to continue


Step -9: Select your payment method and confirm your domain name registration.
Godaddy:
My second recommendation is GoDaddy. This is perhaps the most commonly used domain registrar on the internet. However, whenever you choose to buy a domain name from GoDaddy, they bombard you with up-sells. By the time you reach your checkout, you'll be looking at a whole different price than what you first saw.
iPage:
My last recommendation is iPage. This has the cheapest prices when it comes to domain names, however, it takes short time for your domain to be registered. It took me few minutes for my domain to get registered with Ipage, and I also did not face any issues.
iPage Web Hosting for only $1.99/Month
iPage.com! 75% discount today with a FREE domain! $1.99/month only, Get Started Now!
That's pretty much all there is to domain names, and how you can get one for yourself. I wish all of you good luck with your new domain!
Domain Extensions:
There are many domain name extensions to choose from, over 300 to be exact. When selecting your domain name, choose the .com extension if at all possible. Your desired domain name may be taken but coming up with alternates to stay with the .com extension is worth it. The reason it is recommended to use the .com extension is that it is normally the assumed extension when someone refers to a website.
1) Domain Name Keyword Selection:
In researching your niche keywords, you should take note of the top 5. Your domain name should consist of the top 5 keywords for your niche.
2) Length of a Domain Name:
The length of a domain name can be up to 63 characters but is a lengthy domain name always the way to go? It depends and I've heard arguments for both short and easy domain names being the best choice. However, I think it is safe to say it depends upon your niche. Let me provide you with an example.
Let's look at a site everyone is familiar with ToysRUs. If the company website was named TRUs.com, it would take on an entirely different meaning altogether. Your example should be descriptive enough to give a visitor an idea of what your site is about, yet short enough that it is easy to remember.
3) What if Domain Name Already Taken?
What if your domain name is already taken? Often the domain registrar will suggest an alternate domain name consisting of the words "The" and "My". While these are valid suggestions, weigh out other options. The reason behind this is visitors may forget the "My" or "The" and you lose a visitor. Let's look at an example:
Your site will be about making crafts and your most desired domain name is: "makingcrafts.com". Unfortunately, this domain is taken. If the site makingcrafts.com is an established brand, I would not recommend going with Immakingcrafts.com because the competition is already too great. Set yourself apart from the competition by using "createcrafts.com" or "discovercrafting.com". This allows you to remain with a domain name related to your niche and it allows you to establish your own brand and set yourself apart from others. In summary, selecting the best domain name will take time and research but it will be worth all the effort in the long run.
4) Why Your Business Needs A Domain Name?
With the help of a domain name, your stakeholders will be able to identify your website and stay away from the really technical IP address which remains invisible for most viewers. Some examples of Domain names are:
1. ranktrends.com
3. harvard.edu
4. gov.uk
5) Why get a Domain Name?
Getting your business a domain name is an essential step that must be taken towards achieving success online. Here are a few more reasons why owning a website or a domain name is a must:
– If you are not proactive about securing a domain name for your business, you need to prepare for the consequences in an eventuality that your competitors might get to it first.
– Even if your business may not be ready to build and manage a website just yet, acquiring a domain name is a smart investment towards the future of your business.
How to Selecting the Right Domain Name:
You needn't be an internet expert to understand that the domain name you eventually select should be aptly representative of your brand, profession or business. For example, .edu is available to companies, individuals and organizations that belong to the educational sector. If you are not for profit organization or a government institution, it is appropriate to have .org at the end of your web address. The most popular for businesses is a .com domain. However, the following tips will help you select the right domain name:
1. Shortlist the 5 Most Popular Keywords related to your Business:
These five terms of phrases best describe the domain you're seeking. Once you have them listed out in front of you, you can try out various pre-fixes, or suffixes to create a domain name most suited for you. For instance, if you're starting a beauty website, you might start with words such as make-over, glamour, elegance etc. and play around to find a good match.
2. Create a Unique Name:
Check on competition and other brand names. Make sure that you do not choose a domain which sounds like or is a misspelled version of another website already online. For example, Nike which is unique and it is one of the best brands.
3. Keep the name as short and as easy as possible:
Simply because it is easy to remember and type short names.
4. Avoid using Hyphens and numbers:
As both make it complicated and confusing for the web surfer to use.
5. Avoid any Copyright Issues:
Make sure that your website is unique, and you're not infringing on anyone's copyright with your sites name. With an impactful domain name and appealing website, you can transform your business into a sustainable and thriving venture.
Extra Tips in Choosing a Domain Name:
A domain name is one of the most important parts of a website and is something that you have to think long and hard about before actually going through with the purchase. Reason being that it is vital to the identity of your website, and choosing the wrong one means you give people the wrong impression about your website. If you're in the market for a domain name, here are a few things you might want to consider first before buying:
1) The Domain Should Reflect The Website's Name:
To marketers, this comes off as common knowledge, as the domain and the name of the website serve as the first and most powerful means of branding your entire website for the visitors. However, many website owners fail to do so and choose domain names that have nothing to do at all with their website name. It's understandable that getting a specific domain name is difficult these days, as there's a big chance that the name has already been purchased.
However, you can resort to variations, or at least pick a name that is still reminiscent of the name you chose for your website. As a last resort, you can even change the name of the website in order to reflect the domain that is available.
2) Get a Brand Name Domain Instead of a Generic One:
Many people think that getting a generic name like pencil.com is much better than getting one that matches your brand, like TitanPencil.com. However, it is much more important to choose a domain name that matches the name you use to advertise your product because that's the name that people will try in their browser or on search engines. If you use a generic name, you compete with all the brands that are in your field, but if you use a brand name, you automatically target people who are specifically interested in your brand while also competing with brands that used a generic name.
Additionally, generic names are almost always ridiculously expensive.
3) Choose a Longer Domain Name:
Domain names can have as many as 63 characters so you have ample room to be creative. Just make sure you pick a name that can be easily remembered and isn't prone to typos – up to a point.
It is usually better if your domain is a phrase like HugeCheapPencils.com instead of a set of words and characters like Pencil667.com, as it is usually easier to remember phrases. Additionally, you don't really have much choice these days as it's very difficult to get short meaningful domain names these days, as they have already been purchased by many webmasters who came before you.
4) Last But Not the Least: Get The Domain Name Before Your Start Your Site or Business:
This is important. When it comes to the web, all of the brand equity that you get will almost always be attached to the domain name, so there's no way you can survive a change in domain names. Treat it like a large tattoo on your forehead – make sure that you get one that you really want because it's going to be stuck there forever.
Do You Know How To Buy A Domain Name?
The answer to the question 'how to buy a domain name' is relatively straightforward however there are a few subtleties that you should take into consideration. By entering 'domain registrars' into any search engine you will be presented with a choice of companies any of which you can use to purchase your domain name. Are all domain registrars pretty much the same? They are but you should take the following into account.
1) Price
The good news is that there isn't a great deal of difference between the most expensive and the cheapest. You should only buy one years usage of your domain, most registrars have, as a default setting, two years. You should also avoid the seemingly endless add-ons that will be offered.
2) Ease of use:
Here there are noticeable differences. Some have a search bar prominently displayed on their home page, while with others it can take a few clicks to track down. The real differences arise when it comes to handling your new domain name after buying it. You will, at some point, need to point your name servers at your hosting company. Don't be concerned if that sounds a little technical, it simply means enabling your hosting company to use the name that you have bought from elsewhere. This brings me to my next point.
3) Domains and hosting from the same company:
You can indeed buy your domain at the same company that hosts your website. This, in my opinion, is rarely a good idea. Hosting companies are usually quite expensive when it comes to buying domains and domain registrars rarely offer first-rate hosting services. Far better to use separate services, your hosting company is a far more important issue than where you buy your website address. .com or what?
Especially if you are setting up a commercial website it is better to register a .com, .net or .org. There a number of reasons for this but the most important is that those are the suffixes that people across the world are most familiar with. If you are going to operate solely within your own country then that countries suffix can be a good option. For example, if you were trading exclusively within the United Kingdom the co.uk suffix would work well.
You would then set up a 'forwarder' for your own name domain so that when someone goes to it they are automatically transferred to your real site. This happens so quickly that they would not be aware of anything strange happening. I hope you now know a great deal more about how to buy a domain name. It is one of those fairly simple processes that are well worth spending a little time to get the best result possible.
Important Factors To Consider Before You Buy Domain Names:
Properly naming your website is important if you want your online venture to be successful. This is a crucial aspect that you cannot overlook whether you are launching a business site or putting up a personal blog. You have to recognize the fact that this is the first thing that your visitors will see. Here are a few things to keep in mind when you want to buy domain names.
Before Buy a Domain Name You Should Consider:
The best URLs are the ones that are not too long. If it is too long, it may easily confuse your potential visitors. They will not remember it easily and will give up after typing a couple of wrong web addresses.
If you choose a catchy URL, people will remember it easily and you will keep on having a lot of returning visitors.
Dashes, acronyms, numbers and other symbols should also be avoided. They may also contribute to the confusion of potential visitors.
Before you buy domain names, it is much better to focus on names that are not complicated. This will work to your advantage if you are launching a business website.
A phrase or word that is short and sharp is easier to recollect. Give some consideration to the type of customers that you have. There are some names that are usually associated with certain types of businesses.
The URL should not just be what you like but something that the majority of your customers can easily identify with. If you like a particular phrase or word, you should conduct some research to find out if it will appeal to prospective clients.
Always have a number of alternatives. The URL that you want to register may already be in use by another company or individual. Write down as many possibilities as you can so that you can choose another one if the first one is not available. If you have unique options, your search for the ideal domain address will not take too long.
Other Domain Extension:
Remember also that dot com is not the only extension. Other extensions that you can consider include:
.Net
.Org or
.Co.
The most appropriate extension will be determined by the type of website that you want to build. For instance, if your business is offering products and services that will be downloaded directly into mobile devices, a .Mobi extension can be considered.
You cannot use a name that has been trademarked by another company. This is a copyright infringement that could result in legal action. The cost of the lawsuit can be very high so it is advisable to avoid it altogether. If you want to be sure, visit the copyright website to check the URL that you want to register.
Conclusion:
Therefore, we can say, you have learned all about how to buy a domain name. After that, our last suggestion, when you are about to buy domain names, you may also want to include the most relevant keyword to your business. For instance, if your company sells shoes, the word shoes can be incorporated into the URL. On the other hand, if you want to reinforce the presence of your company on the internet, you can simply use the name of your business.