in this article, we discover the top 10 WordPress themes to becomes successful for digital marketing. If you are creating a WordPress website for a digital marketing agency or just want to promote your services online, then this top 10 WordPress themes review article will be informative for you.
Digital marketing is a huge field of activity in 2019. However, it may be kinda complicated to get your place in this business, especially if you are a single entrepreneur of a small company. Oftentimes, huge companies have more resources. So, how to become successful and stay competitive in this dynamically growing business?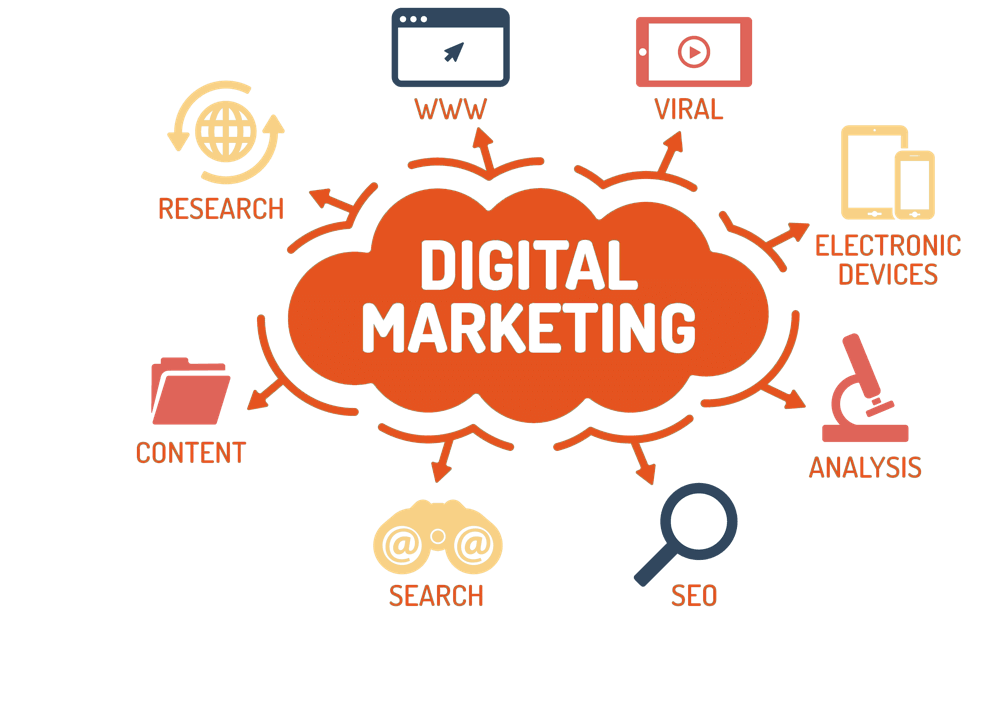 One of the most important things playing the key role, in this case, is a powerful and professional website. Therefore, choosing the appropriate template is way crucial when you establish a fully-fledged website. Different themes offer various features, so you ought to select the one that would satisfy your requirements.
Why You Choose Templatemonster for WordPress Theme:
Some of them come with a drag and drop page builder that makes the overall process of building a website much simpler and faster. The other themes can include e-commerce instruments that allow you to run your own store and start to sell the services online. Besides, most of the themes come SEO optimized, while a few of them include specific widgets or plugins that will be helpful only in your type of business.
Keep in mind that some of the templates contain bonus images, while the others don't. Thus, you should pay attention to this aspect to be ready to get the pictures outside the theme, let's say at photo stock websites.
The appearance of your website is not less critical because it is the image of your brand. Thus, the site should look attractive to encourage visitors to stay at it for longer. These and many other terms are very important when you are looking for a theme to build a website. That is why we've picked 10 best WordPress themes that can help you to achieve great success in digital marketing.
Review Templatemonster Top 10 WordPress Themes For Digital Marketing Websites:
Here is a list top 10 WordPress themes for digital marketing websites which are taken from Templatemonster.
Imperion
Adverting
Bitunet
TopConsult
Perfect
Startup Company
Dominer
Digitallium
SEOMarket
Loudin
Imperion:
Imperion is a modern, multipurpose WordPress theme that can be an excellent solution for any kind of business services. Thanks to the Elementor drag and drop page builder, designing layouts has become easier than ever before. With a huge pack of the best Cherry plugins, you get even more opportunities to increase your website functionality. Using WooCommerce instruments you are able to establish a fully-functional online store in a short time. All of these features belong to a great bundle of instruments intended to help you create an amazing website for a successful business.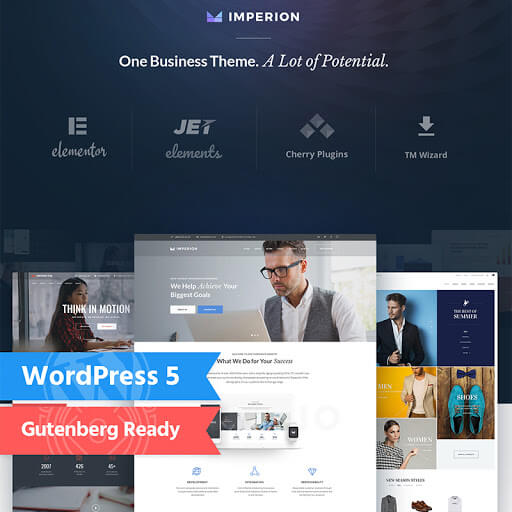 Adverting:
Adverting is a highly functional WordPress theme that has been created especially for advertising agencies. The stylish design already included a pack of topical images, and extended functionality is what you exactly need to impress your client from first sight. The simple installation process included documentation, and 24\7 support make page building process pleasant and simple even if you don't have any experience. Check Adverting WP theme. It may be your first step to a successful digital marketing business.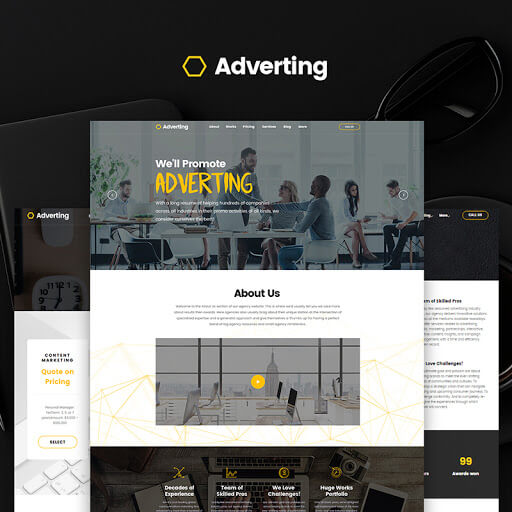 Bitunet:
Do you want to start a cryptocurrency business? Bitunet is one of the best cryptocurrency WordPress themes that will give you brand new possibilities in the cryptocurrency area. It allows you to build an awesome, highly-functional website with no coding skills. You can add a lot of different informative elements like a table with the cryptocurrencies exchange rate, graphs, ratings, and many more. Furthermore, you may create your own custom store right on the website using JetWooBuilder plugin and make the page a universal tool in the cryptocurrency world.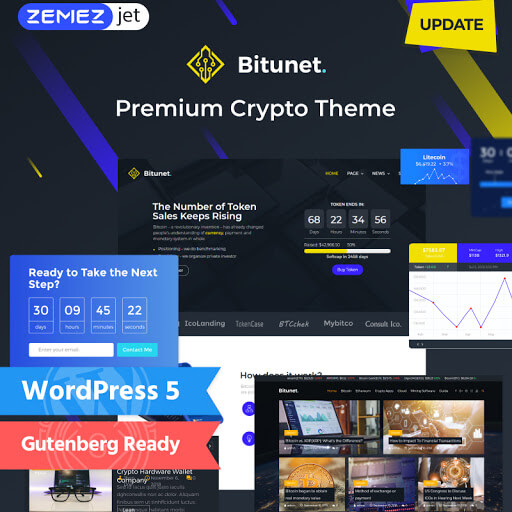 TopConsult:
TopCunsult is a fully-responsive and SEO-friendly WordPress theme for the business consulting website. Modern page building instruments allow you to make your pages look exactly as you want. Multiple footers and header options, google fonts, and a pack of widgets gives you an opportunity to create a unique design of the website. Using WPML tool you can make your web page multilingual to make it more comfortable to use for foreign clients. A pack of topical images that will beautify your website is already included to the set, so you do not have to spend extra money on them.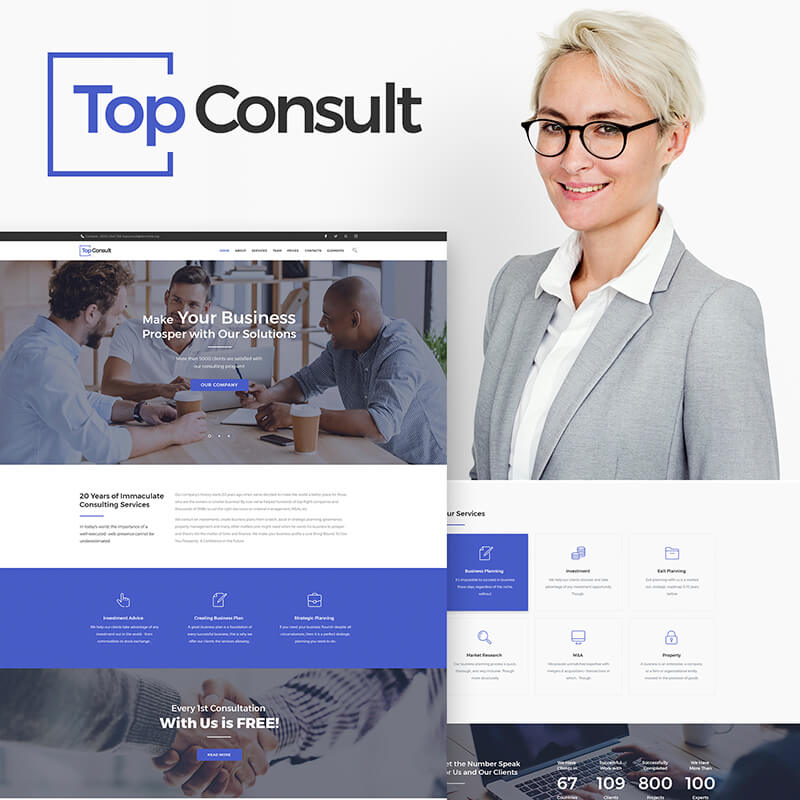 Perfect:
Perfect is a multipurpose WordPress theme, so it can be used for any kind of digital marketing business. Fully responsive design makes this theme look perfect on any mobile device. Being SEO-ready it will help you make your website reach the top of the Google search results. The theme comes with detailed documentation and 24\7 friendly support, so it can be utilized by even less experienced user. A great variety of visual customization options can also help to make your website original and impressive.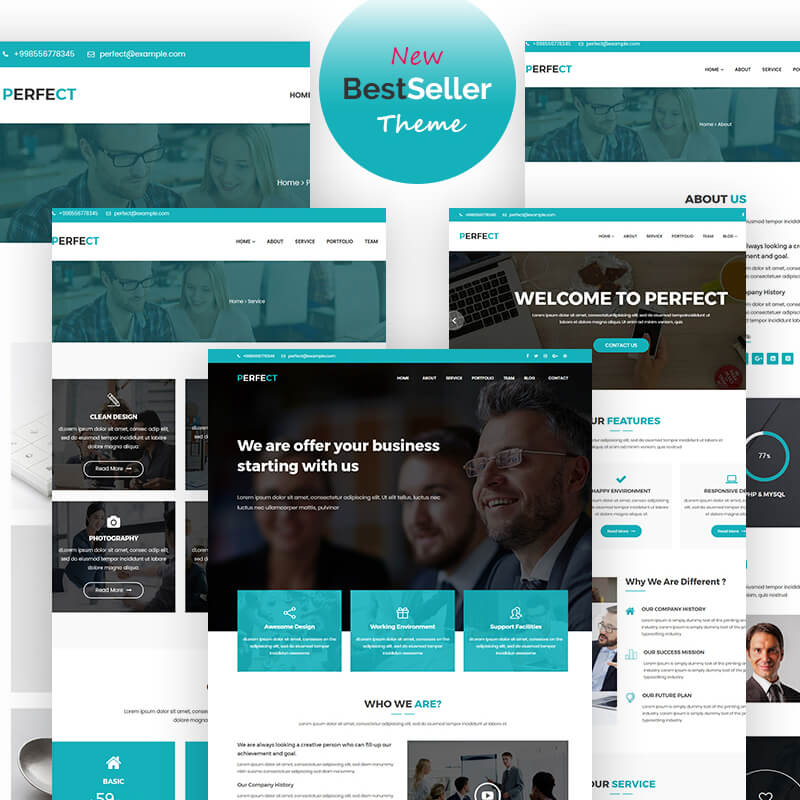 Startup Company:
Startup Company One Page WordPress theme can be a great choice for people who want to build a web page for their startup company. Create layouts with ease using the Elementor page builder and moving the elements across the layout with the drag-n-drop tool. Today, most people use the Internet from their smartphones and tablets. Being fully responsive this theme looks perfect on any mobile device. Do not worry if you are not experienced in page building. Professionals from 24\7 support team can guarantee that any of your questions will be resolved quickly.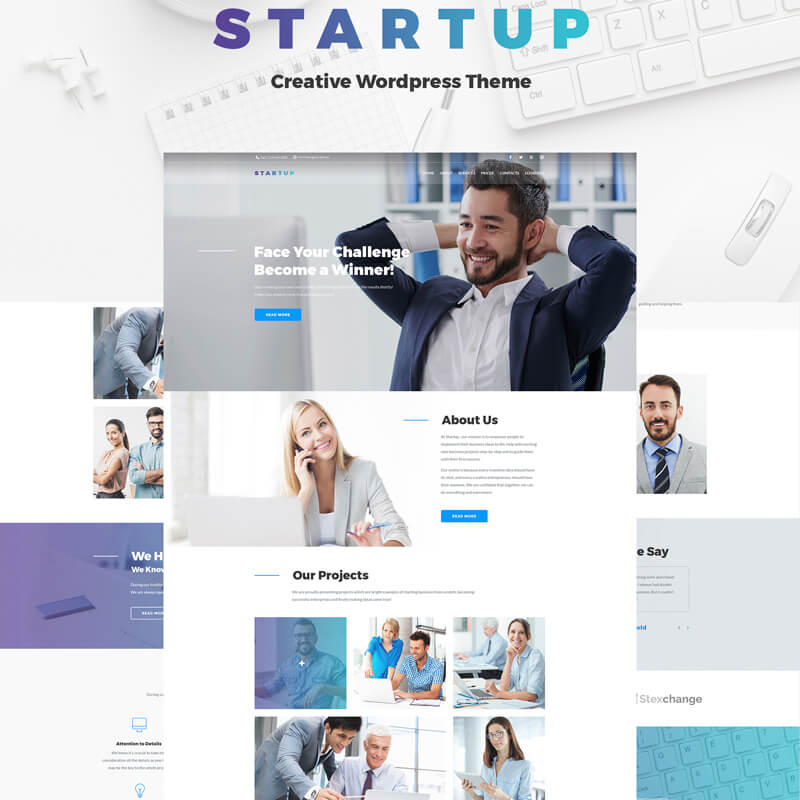 Dominer:
Dominer Business & Services WordPress theme is the right solution if you need to create a stylish and astonishing website. Multiple visual-editing instruments can make any of your ideas about the design real. Blog feature, commenting system, and social media options will help you to be in closer contact with all your clients. Thanks to mobile friendly and retina ready design, anyone can enjoy your website from any mobile device. All images are also included to the set for absolutely free.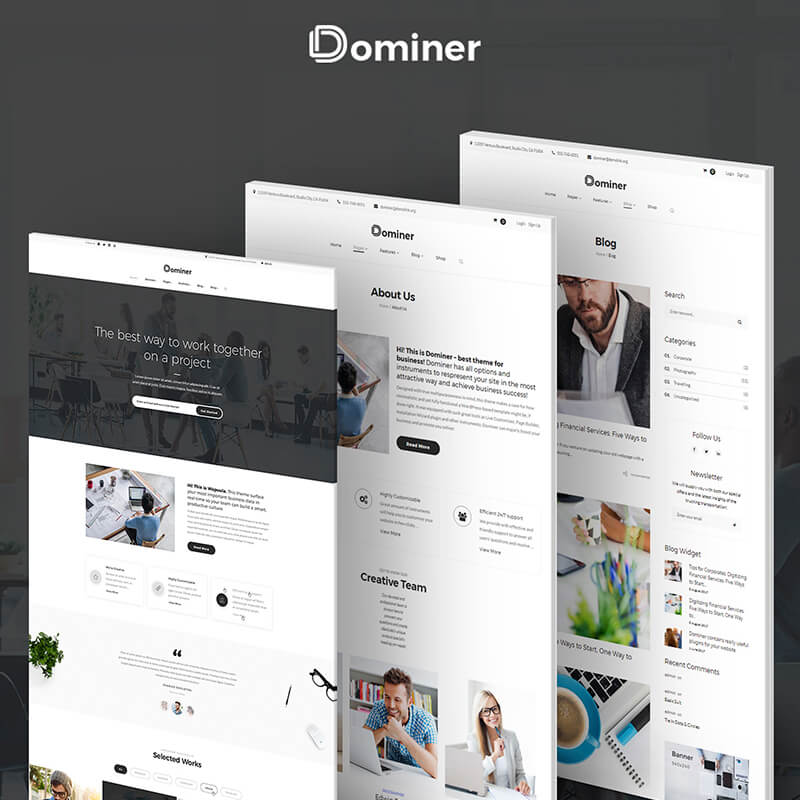 Digitallium:
Do you want to create a beautiful website with high functionality to do your business online? Digitalium is a fully-responsive WordPress theme with rich functionality. You can build an amazing website on your own without any coding skills. With Elementor drag and drop page builder, you need only your imagination, desire to create something great, and a bit of effort. Even if something is new for you, the professionals from 24\7 support will resolve any of your questions on the fly.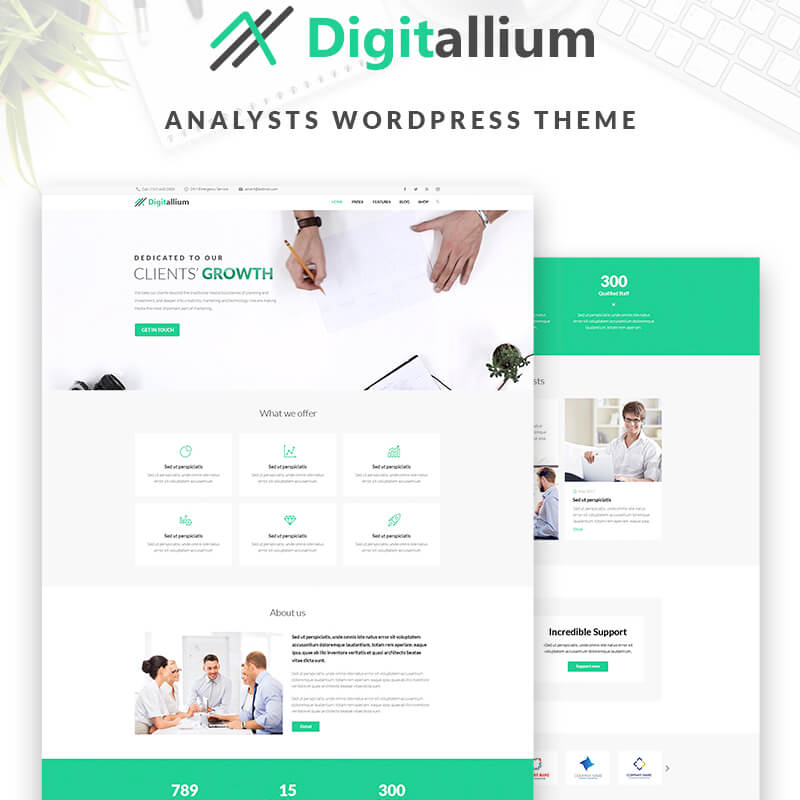 SEOMarket:
The SEO market is a fully-responsive WordPress theme that comes with a large pack of features that can make your ideas real. With Ecwid plugin, you can create your own store in a minute and start selling your services online. Do you want to make your services accessible around the world? WPML plugin helps to make your website multilingual and accessible for all people. Website customization abilities are endless as well. Thanks to powerful Elementor page builder and different visual editing options, you may change any corner and any single icon on your website. These and many other features that come with SEOMarket theme will help you establish the perfect website for a successful business.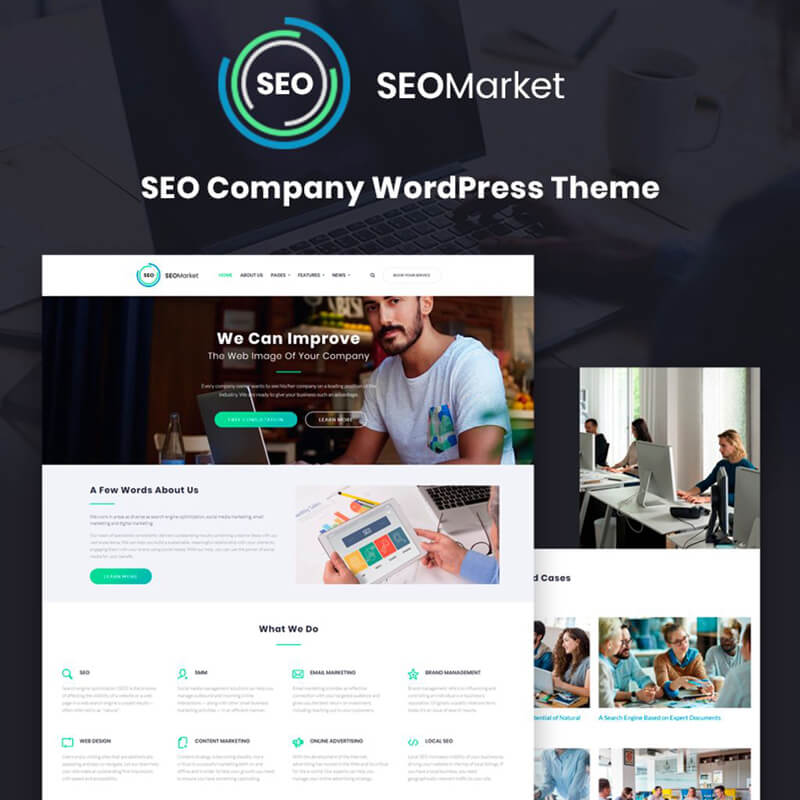 Loudin:
Loudin WordPress theme has been designed for public speaker event, planner, life coach, mentor, public figure, etc. A professional website with the outstanding look is what you exactly need in this field of activity. You can share the information regarding upcoming seminars and motivational lectures thru the website using multiple plugins and instruments that come with this theme. Built-in blog feature can be an additional way to contact with your audience. With a gallery plugin and media library, you can share more content with your website visitors.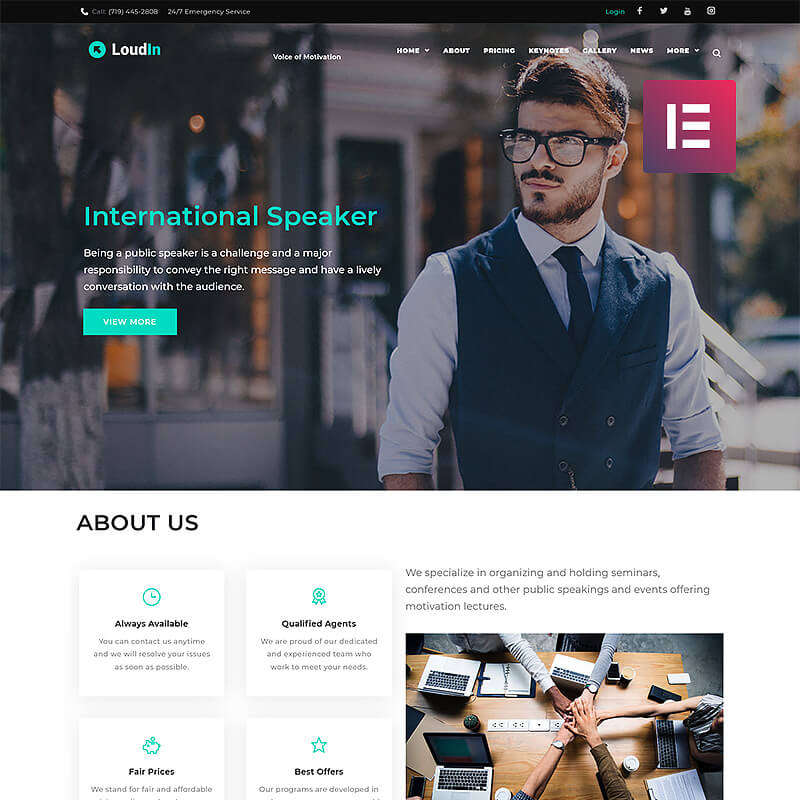 Things to Consider in WordPress Themes
You have decided that you are going to use WordPress for your site and now you need a theme to help move that process along. Before picking a theme there are 4 major things about your theme to consider.
Form
Functionality
Customizability
and Cost.
Each one of these matters in a different way and by considering all of them when searching for the correct theme you will ensure that your site meets your needs.
Form.
I am sure you have heard the old adage "form follows function" this is very true but since we are making a website and not a building. As your search for a WordPress theme, You will realize that there is literally 10s of 1,000s of them so don't tie yourself down with something you don't like the look of just because of one feature. Plenty of fish in the see find a theme that looks like you want your site to look like. Look at the theme's demo page to get a good ideal of what it looks like and if there is no demo site, skip over that theme and thank me later.
Functionality.
Now you have to decide what kind of features you want your WordPress site to have. Responsiveness is one of the most important features you can get and by getting a responsive theme you are helping to future proof your site. Things like newsletters, social media connects and image sliders are all things that you can add using Plugins so skip over these as a functional advantage. Most importantly take a look in the demo at the shortcode page this will show you all the neato functionality tools.
Search engine optimization:
At the point when WordPress is furnished with any of the few extraordinary SEO modules, it could be among the most SEO-accommodating CMS accessible. However, plenty of subjects make a wide range of on-location SEO blunders like precluding header and alt labels, copying substance and committing dynamic URL errors. In picking a subject, go for one that makes reference to "Website design enhancement prepared" or "Web optimization upgraded" in its portrayal, yet don't aimlessly confide in it.
Numerous engineers include this so they could sell their topic. When you realize that a fashioner has, in any event, mulled over SEO when building up their topic, you get a type of affirmation. You can introduce an expansion like SEO Site Tools or Mozbar for the Chrome program to do some quick SEO keeps an eye on the demo of a subject.
Online networking Integration:
It is only from time to time for an online client not to have an internet based life account. When you have a blog or a corporate site, you are most likely attempting to attract more guests to participate in dialogs just as like, offer or remark on your posts. It is anything but difficult to accomplish this by methods for social sharing button. Incorporating online life has demonstrated to be viable in expanding site hits in addition to sharing details.
Fast Loading Speed:
Any online client will leave a page when it doesn't load immediately. We live in a quick paced existence where everybody needs everything in a flash. Individuals hang tight for a normal time of three seconds for the site to completely stack. For them, three seconds is perfect. When you are on the web, it feels like for eternity. Thus, you ought to painstakingly pick a WordPress topic to use on your site. You will never again have any issues with the heap speed when you pick a well-coded format, just as committed modules intended to help your site's speed.
Customizability.
A good theme will have a nice page explaining how easy it is to change things like color, font, and layout. More detail will be provided on that shortcode page we talked about. Sometimes a theme will be built on a framework and you should research about that framework, you might even find a YouTube video or two demonstrating how to customize it.
Cost.
There are some free themes and then there paid themes, just paying for a theme does not make it better or even guarantee that it will work as you want. You should not let the cost of a theme deter you from choosing it, but you should factor it into the decision process. A good rule is that when a theme is free you will need to put in more work to make design work and when you pay for one it should come with some instructions on how to use it. Now that you know what to look for in a WordPress the look, how it works, how much can you change it and the cost.
Final Word:
As we may see, there is a wide choice of different themes for any kind of businesses. They offer instruments and features for your exact type of activity. The design is also can be truly different depending on your needs and preferences. Be it SEO services company, marketing, advertising, business consulting of even crypto industry, everyone will find the needed template. We hope you've also found the one you need and it will take your business to a completely new level